Culinary Events & Classes Redesign
A Concept Piece for Williams-Sonoma
Programs & Skills:

User Research, Wireframing, Sketch, InVision
Williams-Sonoma is a culinary leader in providing home-cooks and professional chefs the tools to elevate their craft. They wanted an upgrade to their cooking classes checkout process.

I created a new user flow that generates a custom shopping list of products customers will need for a chosen class or recipe

, seamlessly integrating both purchases into one experience.
[unex_ce_button id="content_699wpc9k9,column_content_bh6olud2h" button_text_color="#ffffff" button_font="semibold" button_font_size="15px" button_width="auto" button_alignment="center" button_text_spacing="2px" button_bg_color="#2c9150" button_padding="10px 60px 10px 60px" button_border_width="2px" button_border_color="#ffffff" button_border_radius="100px" button_text_hover_color="#ffffff" button_text_spacing_hover="3px" button_bg_hover_color="#2c9150" button_border_hover_color="#ffffff" button_link="https://projects.invisionapp.com/share/ZX87AHHGW#/screens/162304181_01-00-00_Home" button_link_type="url" button_link_target="_blank" has_container="" in_column="1"]View the Prototype[/ce_button]
The Brief
Find a way for Williams-Sonoma customers to book cooking classes on the web that allows them to generate checklists and purchase kitchen products with ease based on the class they have booked or recipe they love.
Make it easy for Williams-Sonoma customers to share their cooking experiences with friends and their community.
Research
Industry
I started by getting to know Williams-Sonoma:
core values
main competitors
customer demographics

Interviews
Next, I used social-media to find participants in that demographic to interview about thier cooking habits, level of cooking skill, and thier experience with taking cooking classes or other forms of cooking education.
Targeting My Design
Affinity Map
After completing user interviews, I created an affinity diagram which maps the habits and opinions of my interviewees into patterns.
These patterns and traits were then used to create a user persona for my redesign.
Lorene is in her late 50s
She has been cooking for many years and is comfortable in the kitchen
She enjoys entertaining on the weekends and likes to have friends over to share a meal on her patio
Lorene has taken a few cooking classes in the past but stopped because they moved too slowly
It's often a lot of work to find and register for classes
Lorene doesn't use social media on a regular basis
In addition to interviews, affinity mapping, and domain research, I did a task analysis of the current Williams-Sonoma process by attempting it myself.
I found that there were several difficulties in the flow:
There is currently no way to register online for W-S cooking classes

The classes advertised were not available in all areas

I had to call each store separately to find out which classes were available in the Seattle-area

The class I hoped to sign up for was not offered in Seattle
Before starting to sketch out a design, I map out a scenario using the current Williams-Sonoma checkout process to find the points where Lorene would start to struggle or get confused.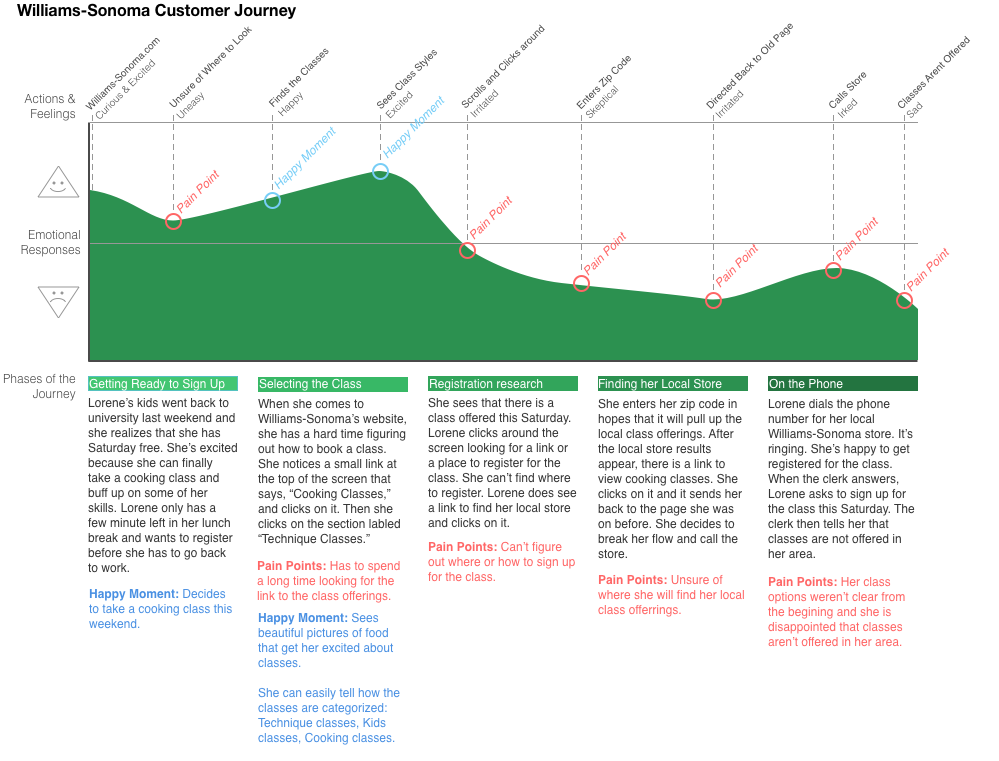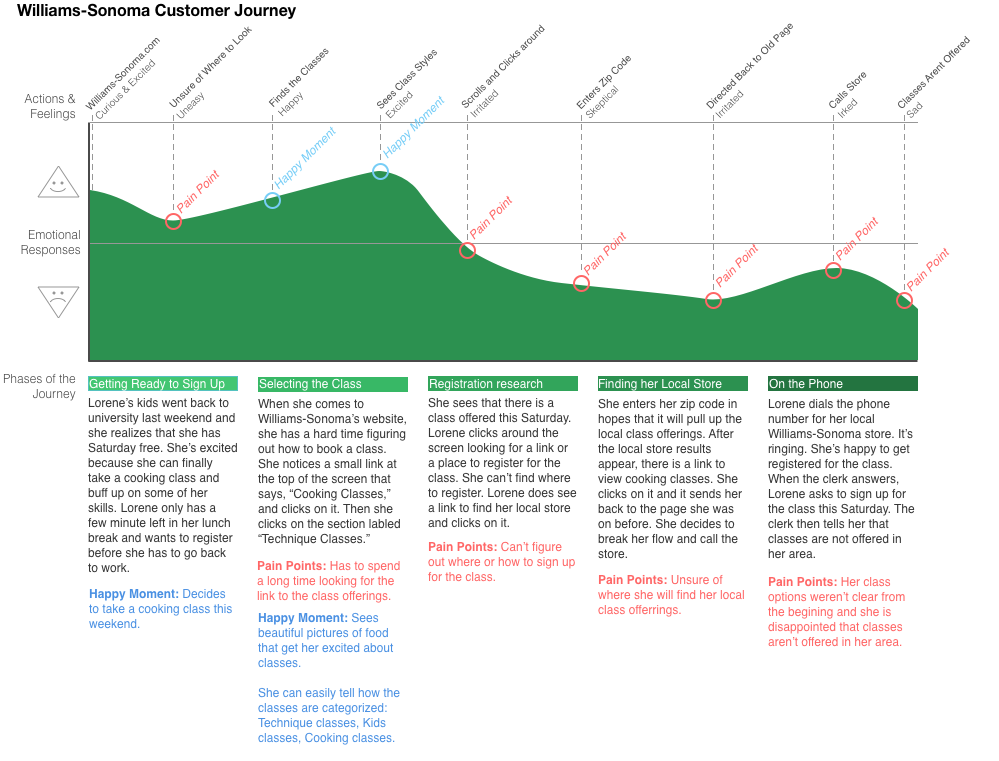 Redesigned Screenflow
Wireframes
Keeping my target user, Lorene, in mind, I began sketching out ideas. After several paper iterations, I built out wireframes in Sketch and then built out a clickable prototype using InVision.
From my research, I learned that the target user doesn't use social media on a regular basis. So I decided to narrow my scope and focus on the largest painpoints of the class checkout process.
These are the solutions to Lorene's biggest pain points:
In the new design, Lorene's experience starts by filtering classes by location. This way, instead of choosing her class first and then finding out it isn't offered in her area, she can know exactly what her options are.

Once she's found a class she wants to take, she can purchase the class and all of the tools to take home with her afterward by selecting the "Full Experience" option. If Lorene only wants to register for the class and add select items to take home -or none at all- she can use the "Quick Add" button underneith the items that are displayed in the class registration screen.

Keeping the Williams-Sonoma business goal of shareability in mind, I added links to Facebook, Instagram, and email on the final screen of the flow. This way, if Lorene is feeling like she wants to share the class she is taking, she has an easy way to do so.